Welcome to the Cottage Village!Cottage 1 - 10:
Seven beds
Cottage 11 - 19:
Four beds
20:
Road to the school
21:
Playground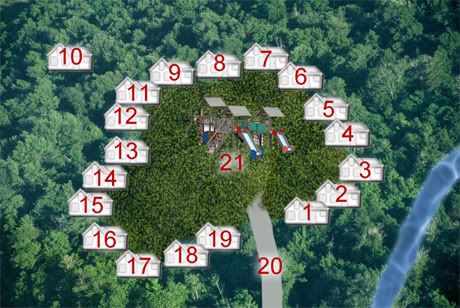 As the number of students increased, your beloved Principal decided to offer you an alternative to living in the dorms. The village contains nineteen cottages, with either four or seven beds in each, along with a small kitchen and a common room.
[Cottage #1]
>> Komui Lee
>> Lenalee Lee
[Cottage #2][Cottage #3]
THE SINGING COTTAGE
Because the Principal liked the music he picked for the Graduation Prom 2008 so much that he now wants to play it constantly, so he made made one of the cottages a singing one (as in, there's no music system, but the music is playing anyway).



Have fun trying to sleep in that area of the forest when
and a lot of other really bad examples of Swedish music is being played on full volume at all hours of the day (and night) |D

[Cottage #4]
>> Rakka
[Cottage #5][Cottage #6][Cottage #7][Cottage #8][Cottage #9]
>> Phoenix
[Cottage #10]
[Cottage #11][Cottage #12][Cottage #13]
aka the
Dragqueens'
Princesses' Cottage
>> Mikoto
[Cottage #14][Cottage #15]
>> Tamaki
[Cottage #16]

>> Sabel


>>

Rath Illuser

[Cottage #17]

[Cottage #18]

>> Schuldig
>> Zelos Wilder

[Cottage #19]



Please discuss with the inhabitants/possible habitants in the cottage before signing up for a cottage, to keep the spamming of the post to a minimum.